Frequently Asked Questions
Whether you are just beginning your research about senior living lifestyles, or you have been looking into this for awhile now, you are sure to have a few questions. Below are some of the most frequently asked questions we get about assisted living in general and about Live Oak Estates in particular. If you don't find what you are looking for, don't hesitate to contact us-we are here to make your life easier in any way we can.
Does Live Oak Estates provide nursing care and/or physical/occupational/speech therapy?
Live Oak Estates does not provide nursing care, physical/occupation/speech therapy, rehab or medical services. Although we are happy to help coordinate services with outside healthcare providers including: hospice services, home health services, on-site visiting physicians.
What are the visiting hours at Live Oak Estates?
When you live at Live Oak Estates, it is no different than living at home-you and your guests are free to come and go as you please. We encourage family members to visit as frequently and often as possible.
May I bring my own personal furniture?
Absolutely. We encourage all residents to bring their own furniture and decorate their room with personal items, artwork and family photos to make their new place feel like home.
Does Live Oak Estates provide transportation?
Unfortunately, Live Oak Estates does not provide transportation. However, we have a loading and unloading zone for personal vehicles. Entrance and exit ramps are built to TAS and ADA code. Due to policy, our team members are not liable for transferring residents in/out of personal vehicles. Our team members are not trained to perform vehicle transfer evaluations and/or assessments regarding the abilities of your loved one to safely get in and out of your personal vehicle.
Our team will be happy to assist you with arranging professional transportation accommodations.
Can I bring my mom/dad meals from time to time?
Absolutely, you may bring your loved one their favorite meal! We want our residents to feel happy in their new home. It is very important you carefully follow any medical dietary orders or recommendations.
May I make personal requests regarding my loved ones activities of daily living services?
Yes, please do. Our team wants to do everything we can to accommodate any and all personal requests. Our mission statement: "To enhance the emotional and physical well-being of those we serve, in a happy, healthy home environment."
May I assist my loved one out of the facility for recreational activities, shopping, church, meals, MD appointments?
Definitely. You are encouraged to take out loved ones for any personal reasons. You may arrange transportation, or transport in your personal vehicle (if you are able to assist in/out of your personal vehicle). Our team will ask you to fill out a short form regarding reason for leaving facility, your name, relation to resident, approximate time of return, sign in and out log for our records.
Does Live Oak Estates accept Medicare, Medicaid, Veteran's Benefits, or Long Term Care Insurance?
Although Live Oak Estates is a private pay only facility, you have options to support paying for the care. Medicaid and Medicare do not assist in covering care received in assisted living facilities. Many residents with Long-Term Care insurance are able to utilize their existing policy to cover a portion of, or the full extent, of their stay. Because of the varying terms of these individual policies, coverage may differ. United States veterans and their surviving spouses may be eligible for a monthly federal benefit payment of up to $1731 per month to help pay for care, including assisted living and at-home care. Before making any kind of financial decision, we advise that you contact your personal financial advisor or tax professional.
How much does it cost to live at Live Oak Estates?
At Live Oak Estates, care is tailored to individual needs and residents pay for the level of care that they require on a month-to-month basis. At our assisted living home, each resident's rate is determined through a review of the physicians report and a thorough assessment performed by the owner/operator. The rate will be adjusted as the resident's needs change. To learn more about our pricing structure, please contact us.
What does a long-term care ombudsman do?
A long-term care ombudsman helps residents of a nursing facility and residents of an assisted living facility resolve complaints. Help provided by an ombudsman is confidential and free of charge. To speak with an ombudsman, a person may call the toll-free number 1-800-252-2412.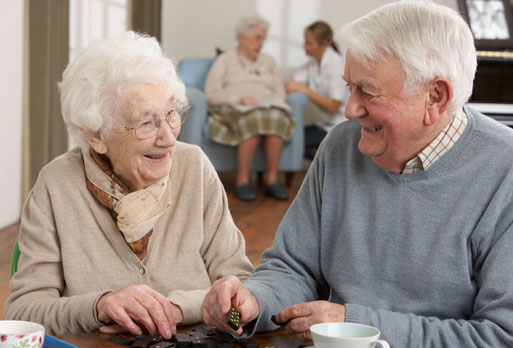 Helpful Links
Still have questions?  These helpful links may help to answer some of them.
Tips for choosing a facility and making the transition
View
Help with preparing for the future, including advance care planning forms
View
Information on financial assistance for assisted living facilities
View